Monday Meandering 1/2/23 – Bullet Train, Glass Onion and Only Murders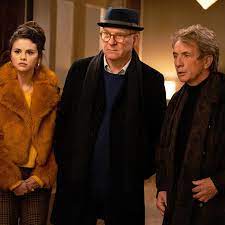 I'm going to try to bring this back…again.
Welcome to the new year kids. Hope everyone had a wonderful holiday season. Hard to believe it's 2023.
My goal, meager as it may be, is to keep our website updated regularly. I also plan to add content above and beyond the podcast and, with any luck, get Stephe to do the same.
Let's kick off the new year with a look at some of the things I watched while I was home for the holidays.
BULLET TRAIN
Who doesn't like a stylish action movie? A little bit Die Hard. A dash of Smokin' Aces. Just a smidge of Tarantino. Add some high end acting talent. Shake until combined and voila, you get Bullet Train. I didn't get the chance to see this one in the theater and I'm sorry I missed it on the big screen, but it was still a most enjoyable viewing experience. Highly recommended.
GLASS ONION
Rian Johnson's Knives Out sequel lives up to the height. It's a locked room mystery (if the locked room is the private island of a Musky billionaire) with an all-star cast being shitty people who you can't root for. Well, everyone but Janelle Monae and Daniel Craig. His Benoit Blanc is a treasure and I'm looking forward to future entries in this franchise. You can watch this one on Netflix.
ONLY MURDERS IN THE BUILDING
Yes, I'm way behind on this one. I just wasn't sure how I felt about it. Still, once the first season got rolling it was hard to stop watching Steve Martin and Martin Short put on a master class and Selena Gomez keep up with them. Well done by all involved. I'm still working through season two so no spoilers. Catch this one on Hulu.
Happy New Year!