Podcast Episode 54 – Stephe's Twelve Days of Liam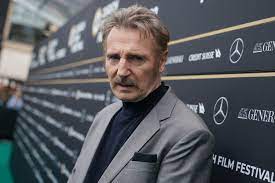 Originally recorded 1/4/23
Happy New Year everyone!
I told you'd we back.
The boys open things up by playing with Bruce's new White Elephant podcast light. Boys and their toys…right?
Up next is holiday chatter.
Discussion of Bruce's son's disastrous shredder work is followed up with praise for him getting a job.
Then we segue into tonight's main event.
In response to the glut of Hallmark movies around the holidays, Stephe took it upon himself to take on the Twelve Days of Liam. Yes, he watched twelve Liam Neeson movies so, thankfully, we don't have to.
Here's the list:
Honest Thief
Blacklight
Memory
Unknown
A Walk Among the Tombstones
The A-Team (with lots of gunfire sound effects)
Cold Pursuit
Under Suspicion
The Commuter
Non-Stop
Darkman
Taken2
We all owe the man a debt of gratitude.
Bruce shared his somewhat less arduous holiday viewing:
Then we spent an inordinate amount of time discussing Zardoz thanks to a meme Bruce posted.
We ended with a rousing round of "What's on Your Desk?" – featuring the Dream of the Magi. What does that mean? Listen!
We also mentioned Hunter Roberts' Dodge Neon bit. HERE IS THE PROMISED LINK.