Monday Meandering: Golden Globes, Colin Jost and Barb & Star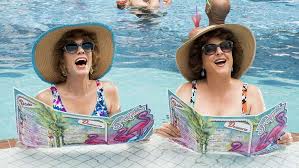 On our old site, GonzoGeek, I used to do a feature every Monday whre I tried to make sense of my most recent pop culture consumption. I still consume and still need a place to vent so I'm bringing back Monday Meandering.
Here's my latest crop:
The Golden Globes – Last night was the first furlong in Hollywood's annual masturbatory award parade. It was an odd evening with no drunk celebrities in attendance and the hosts on both coasts. While this usually gives me a pretty good road map to the Oscars, after last night I'm even more confused than ever. Thanks for Nothing.
A Very Punchable Face – I don't like Colin Jost. I know I'm no in the minority here. My wife, however, is a fan, so I bought her Jost's new memoir for Valentine's Day. She inhaled it and insisted that I read it. I did and now I hate Colin Jost less. A little less anyway. The book is a fun, breezy read that you can totally hear in Jost's voice, for better or worse.
Barb and Star Go to Vista Del Mar – So, Saturday night the missus and I were in the mood for something funny. What we got was something completely different. Barb & Star is NOT the movie that was advertised. It's an odd buddy travel comedy, sure, but it's got a lot of Austin Powers in its blood. And Morgan Freeman as a crab. And Reba McEntire as an ocean spirit. I'm still honestly not sure what I saw, but it was…unique.